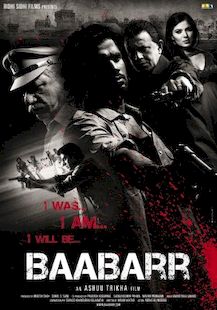 Disaster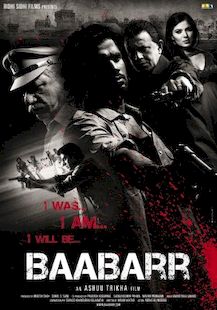 Disaster
Total Nett Gross
:

1,42,00,000
| | | |
| --- | --- | --- |
| First Week: | | 1,28,50,000 |
| Budget: | | 4,50,00,000 |
| India Gross: | | 1,94,00,000 |
| Overseas Gross: | | $8,000 |
| Worldwide Gross: | | 1,97,86,000 |
A 12 year old boy picks up a country made gun and shoots a man in cold blood! His eyes are devoid of any emotion. His heart exhibits no remorse. After shooting the person in broad day light, this 12 year old boy walked the streets of Aman Ganj, with a gun in one hand. Everyone present in the market watched this young lad walk with no fear.

The fear in fact had translated, from him into everyone's heart there. He had made a mark! The boy who started from the streets of Aman Ganj had trespassed every barrier of crime. For the 10 years that followed he traumatized one and all. His reign of fear terrorized everyone in the state, right from the common man to the Government. This was ... 'Baabarr' (Soham Shah)!

In May 2004, when this reign of fear knew no bounds, the Government summoned a man to put an end to all of this, an encounter specialist S.P. Dwivedi (Mithun Chakraborty). The order was simple, arrest him or kill hill him! On job, S.P. Dwivedi realizes that there is more than what meets the eye. It is not only Baabarr, but there exists a cartel that is tough to penetrate!! Baabarr in fact, feeds on the very people that want him dead. S.P. Dwivedi realizes that there is no straight strategy around this.

So he along with his associate, Daroga (Om Puri) set out to nab the one man who is untouchable today. These two will do anything under the purview of the law or even over it, to curb this antisocial. For this they would need to get into their scheme the dreaded adversary of Baabarr called Tabrez (Sushant Singh), but without his knowledge.