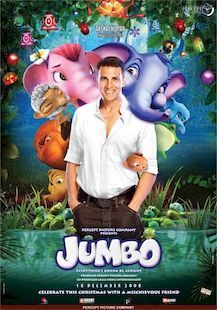 Disaster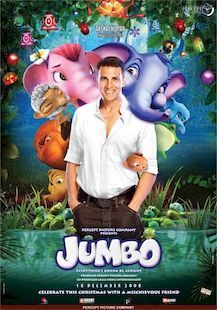 Disaster
Total Nett Gross
:

2,52,75,000
| | | |
| --- | --- | --- |
| First Week: | | 1,65,50,000 |
| Budget: | | 21,00,00,000 |
| India Gross: | | 3,47,00,000 |
| Overseas Gross: | | $--- |
| Worldwide Gross: | | 3,47,00,000 |
Jumbo is the story of a young elephant called Jumbo and his journey in search of his father who he has never met. Taunted by other elephants because he is fatherless, Jumbo wanders off to find his father who he is told is a war elephant for the king. On his trip, he is captured by a raiding party. While trying to escape, he befriends a boy prince who has been ransomed to his foes. The prince has a calming influence on Jumbo and somehow helps him escape.

A weakened Jumbo then comes upon a village where humans and elephants are working together. He befriends a beautiful young elephant cow. However, he is chained up until he is tamed. Under the training of a wise, old mahout, Jumbo becomes bigger and stronger. A local warlord comes around annually to collect taxes from the village. Fed up of his increasing greed, the villagers rebel against him. In the fight where the humans and elephants work together, the warlord and his beasts are eventually defeated.

The call then goes out from the king for elephants for his army. Jumbo is taken to the palace. There, he is seen by his mother, who calls out to him. Jumbo goes wild in trying to break free from his chains to meet his mother. The King notices this, and remembers Jumbo from his childhood. The king is able to calm Jumbo, and from then on Jumbo serves as the personal war elephant of the king. In battle, Jumbo meets a giant war elephant with fiery eyes that was responsible for the death of his father, and Jumbo gets a chance to extract his revenge and bring back the lost glory of the kingdom.