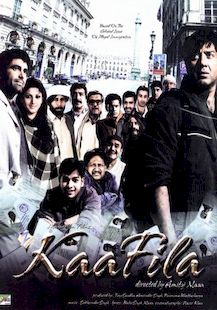 Disaster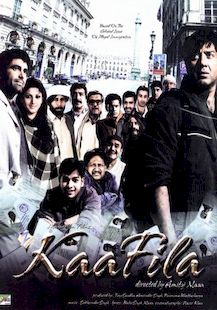 Disaster
Total Nett Gross
:

2,46,75,000
| | | |
| --- | --- | --- |
| First Week: | | 2,16,00,000 |
| Budget: | | 17,00,00,000 |
| India Gross: | | 3,52,00,000 |
| Overseas Gross: | | $130,000 |
| Worldwide Gross: | | 4,04,65,000 |
Kaafila is a story of the mad rush of opting to leave one's motherland in search of utopian dreams for a better life abroad. People put their careers, families and even their lives at stake, to reach their desired destinations, legally or illegally.

Kaafila tells the story of a group of people, travelling illegally to UK. After suffering enormous hardships, only 12 men out of this huge group survive. Palvesha, an Afghani girl, sympathises with the survivors and takes them to Samir Sunny Devol. He agrees to take them ahead on their perilous journey for a heavy price.

The group comprises people from different countries, communities and creed, but with a common tragic bond which brings them together. Their arduous trek takes them thru the rugged terrains of Russia, Kazakhstan, Uzbekistan, Afghanistan and Pakistan and finally ends of the Indo-Pak border.

Along the way the folly of travelling illegally drives home the truth, that whatever one does, wherever one goes, one's soul is tried to the motherland by a bond which is thin but unbreakable. Kaafila is based on authentic, real life experiences of people who have travelled illegally and have barely managed to survive.