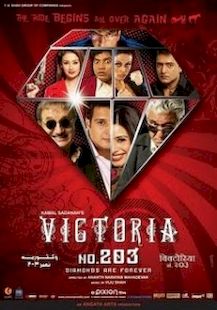 Disaster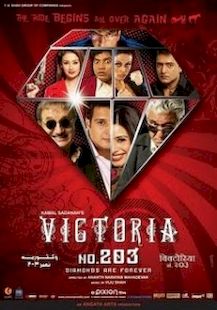 Disaster
Total Nett Gross
:

96,50,000
| | | |
| --- | --- | --- |
| First Week: | | 92,00,000 |
| Budget: | | 9,00,00,000 |
| India Gross: | | 1,35,00,000 |
| Overseas Gross: | | $--- |
| Worldwide Gross: | | 1,35,00,000 |
Victoria No. 203 is a story about a diamond heist and how the lives of so many different people get intertwined in the search for lost diamonds. The movie takes off with a display of diamonds worth 300 crores. Bobby Bombata (Javed Jaffery) who is a rich industrialist and his moll Devyani (Preeti Jhangiani) are smitten by the diamonds. Bobby is willing to do anything to acquire them.

When the diamond owner denies his offer to buy the diamonds, his ego is hurt. He hires the services of a cat burglar, Tora (Tora Khasgir) to steal the diamonds. Tora performs a daredevil heist and escapes with the diamonds. She has an agenda of her own though and plans a double cross with her brother Karan (Rajesh Khera). Just as she is about to escape, she bumps into the infamous Ranjit (Kamal Sadanah) who stabs her.

She escapes though, and falls next to Victoria No. 203 in which she hides the diamonds. The Victoria driver Raman offers to take her to the hospital and in the process gets caught by the police who suspect him for attempted murder. Raman's daughter Sara (Sonia Mehra) is forced at this stage to ride the Victoria in order to earn money for her father's trial. She is unaware that she is riding around Bombay with diamonds worth 300 crores in her Victoria.

Jimmy (Jimmy Joseph) an expert on diamonds, takes a ride on the Victoria and instantly falls in love with Sara. The story also entails Raja (Anupam Kher) & Rana (Om Puri) two small time crooks who are recently released from jail. They hear about the diamond heist and are extremely impressed, hoping one day they will be able to do something of the sort.

All the characters meet in an unbelievably hilarious climax and none of them know where the diamonds actually are. Will they ever be found, or will they just disappear in the fog?