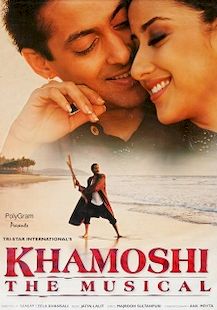 Flop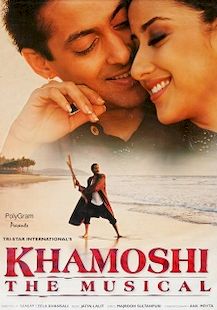 Flop
Total Nett Gross
:

6,89,50,000
| | | |
| --- | --- | --- |
| First Week: | | 2,92,50,000 |
| Budget: | | 6,00,00,000 |
| India Gross: | | 11,58,00,000 |
| Overseas Gross: | | $750,000 |
| Worldwide Gross: | | 14,26,12,500 |
Khamoshi is about Joseph (Nana Patekar) and Flavy Braganza (Seema Biswas), a deaf and mute couple in Goa. They have a baby girl who is healthy and is able to speak and hear. A few years later they have another baby, a boy named Sam, who is also able to speak and hear. Annie's life is divided into two worlds - one with her parents and the other of music, which she loves. Annie gets her musical inspirations from her grandmother, Maria Braganza (Helen).

A few years later, after the tragic death of Sam, Annie's (Manisha Koirala) life is shattered and music and singing fades away. When Annie grows up she gets in touch with music once again with Raj (Salman Khan) whom she falls in love with. She starts singing again. When Annie gets pregnant, her father tells her to abort the baby because it will dishonor the family. Annie refuses and goes against her church and religion.

When Joseph learns this he asks Annie to leave the house. Raj tries to convince Annie's father that he is a nice guy, but Joseph dislikes him mainly because he is a Hindu who doesn't live in Goa, so Annie would have to live far away from him.Eventually, Annie marries Raj and gives birth to a boy, whom they name Sam, after her brother. She, Raj, and Sam go to Joseph's house to reconcile with him.

Joseph not only accepts Annie's boy but also finally approves Raj as his son-in-law. Things are really beautiful in their lives when their life takes a drastic turn. Annie and Raj have a devastating accident, Annie is seriously injured and goes into coma. Joseph, Flavia, and Raj try hard to revive Annie, even trying to stir her emotionally for the sake of Sam. It's the broken Raj, Joseph's moving mute speech and Flavia's love and hope that brings Annie back to consciousness.