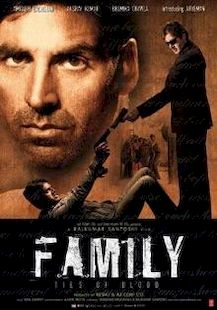 Disaster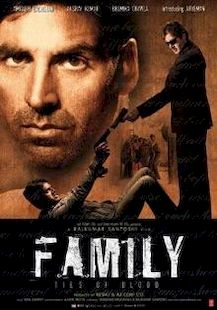 Disaster
Total Nett Gross
:

8,58,50,000
| | | |
| --- | --- | --- |
| First Week: | | 5,70,00,000 |
| Budget: | | 25,00,00,000 |
| India Gross: | | 12,25,00,000 |
| Overseas Gross: | | $530,000 |
| Worldwide Gross: | | 14,59,52,500 |
Family is the story of two families, that of Viren Sahi (Amitabh Bachchan) and that of Shekhar Bhatia (Akshay Kumar) two worlds totally different from each other and how these worlds collide with catastrophic consequences one fateful night.

Family is the story of Shekhar, a man who didn't have much in life, but whose one and only investment pays off fully - his Family. It is the story of Aryan (Aryeman), powered by the love of his family, which gives him the strength to take on the might of an invincible gangster.

It is the story of Sharda, a woman who feared her whole life that her family would have to pay for her husband's sins and now finds that the time has come. It is about the price she has to pay now, to protect her family. It is the story of Bhumika (Bhumika Chawla), who has to find some hidden reservoirs of strength in herself and fight to save her husband's family, her family, from breaking down.

Most important, Family is the story of Viren Sahi, a gangster who finds too late that you may have everything including power, success and wealth but if you don't have family, you have nothing.