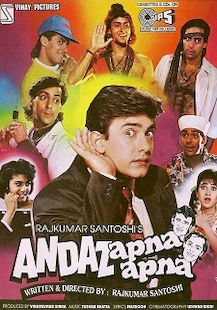 Flop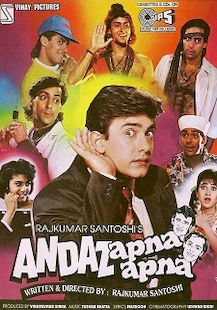 Flop
Total Nett Gross
:

5,29,50,000
| | | |
| --- | --- | --- |
| First Week: | | 1,67,50,000 |
| Budget: | | 2,90,00,000 |
| India Gross: | | 8,18,00,000 |
| Overseas Gross: | | $150,000 |
| Worldwide Gross: | | 8,65,25,000 |
Andaz Apna Apna is a story of two boys Amar (Aamir Khan) and Prem (Salman Khan) who want to get rich quickly by taking all the short-cuts in the book. Amar is the son of an honest barber Murli Manohar (Deven Verma) in Mumbai, while Prem is the son of Bankeylal Bhopali (Jagdeep), a hardworking tailor in Bhopal.

Both Amar and Prem sell their fathers shop and house respectively, and they meet a beautiful wealthy heiress Raveena (Raveena Tandon) who has come from London accompanied by her friend cum secretary Karishma (Karishma Kapoor) with the intention of getting married to a virtuous Indian. The lucky man to wed Raveena will inherit her father Ram Gopal Bajaj's (Paresh Rawal) entire wealth.

Amar and Prem see their get rich quick chance and woo Raveena, each trying to out do the other. Teja (Paresh Rawal in a double role) who's sole ambition in life has been to grab his twin brother Ram Gopal Bajaj's millions. So Teja plants Bhalla (Shehzad) and Robert (Vijoo Khote) in Raveena's house, to help him in fulfills his ambition. It turns out to be a mad chase from Ram Gopal Bajaj's wealth.

Will Raveena and Karishma see through Amar and Prem's mischievous intentions? Will Teja succeed in his motives?
Tax free in Mahrashtra from week five.