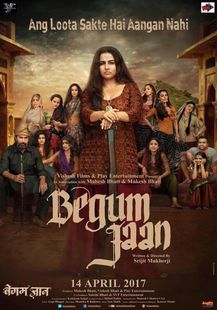 Flop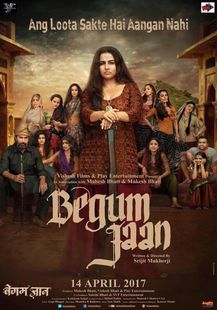 Flop
Total Nett Gross
:

20,05,25,000
| | | |
| --- | --- | --- |
| First Week: | | 15,89,00,000 |
| Budget: | | 19,00,00,000 |
| India Gross: | | 27,77,00,000 |
| Overseas Gross: | | $440,000 |
| Worldwide Gross: | | 30,61,90,000 |
Begum Jaan is an action-drama set during the late Indian Independence period of 1947. When at the behest of Lord Mountbatten, the Radcliffe Commission shoddily drew the India-Pakistan border in just five weeks with no proper topographical or demo graphical study, it sometimes went right through forests, rivers, villages, towns and even houses.

Begum Jaan is the story of one such house in Punjab, which was also a popular brothel, which the Radcliffe line perfectly bisects making one part of the house belong to India, and the other, to Pakistan. Begum Jaan was the matriarch of the home living with 12 others whom she treated as an extended family.

When the officials did not alter the border and sought to demolish the building to build the border of the new nations, Begum Jaan refused to follow the eviction order claiming no government had the right to take away her home. The film is a tale of a family's defiance against a historic decision of the Government and their subsequent fight to save their home.