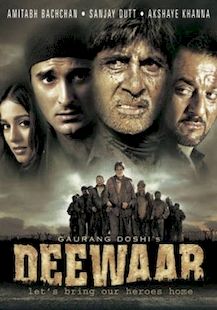 Disaster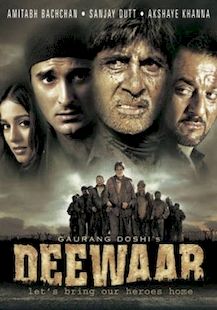 Disaster
Total Nett Gross
:

13,24,00,000
| | | |
| --- | --- | --- |
| First Week: | | 8,05,00,000 |
| Budget: | | 21,00,00,000 |
| India Gross: | | 19,68,00,000 |
| Overseas Gross: | | $475,000 |
| Worldwide Gross: | | 21,86,50,000 |
After the 1970 India-Pakistan war, which gave birth to Bangladesh, and the defeat and unconditional surrender of the Pakistani army, some 30 odd Indian soldiers were not released by the Pakistanis. In 2003, some 33 years after the war, tensions continue between the two countries, and both are at the verge of war. Indian politicians and army personnel are aware of the prisoners, but are unable to take any action, as doing so may jeopardize their lives. Human Rights groups are kept in the dark, and the prisoners are transferred to other locations, when the news of any such group gets to the prisons.

A group of soldiers and their commanding officer Ranvir Kaul (Amitabh Bachchan) are captured behind the enemy lines in Pakistan Occupied Kashmir. His naive son Gaurav (Akshaye Khanna) tries to spring him, for which he needs the help of a cynical prisoner (Sanjay Dutt) who is not willing to help.

When proof of his dad, Ranvir Kaul reaches Gaurav, he decides to travel to Pakistan to try and free his dad. Unknown to him, his dad has already tried to escape some 17 to 18 times, only to be captured, and brutally beaten by his captors. Gaurav is told that going to Pakistan is easy as entering a mouse-trap. Once you are in, you cannot get out, no matter how hard you try.