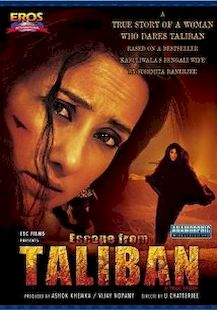 Disaster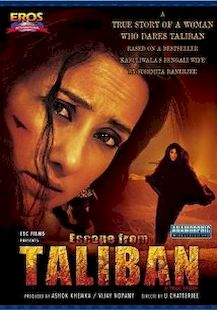 Disaster
Total Nett Gross
:

89,50,000
| | | |
| --- | --- | --- |
| First Week: | | 52,00,000 |
| Budget: | | 3,50,00,000 |
| India Gross: | | 1,44,00,000 |
| Overseas Gross: | | $1,000 |
| Worldwide Gross: | | 1,44,47,750 |
Escape From Taliban is a drama that confronts the unspeakable truth of Afghanistan under the rule of the Taliban. Sushmita is a young woman from India who falls in love with a handsome Afghani. Living her own country and family, she follows him to his homeland. Jaanbaz, her husband, eagerly describes the wonderful life they will share and the family they will raise in the hilly terrain near Kabul.

Sushmita believes she has never been happier in her life, but she will soon discover that in following her heart to Afghanistan, she has made the biggest mistake of her life. In Afghanistan, Sushmita is confronted with a horrific new reality. Under the rule of the Taliban, women are considered commodities whose sole purpose is to bear children. She is forced to take the life as it is At first, Sushmita's love for Jaanbaz makes the ill treatment bearable.

But one night, Sushmita discovers her husband's terrible secret, and realizes that he too has considered her little more than a commodity all along. The love she thought they shared out to be a lie. Trapped in a loveless marriage in a suffocating, intolerant society, Sushmita makes an unlikely and courageous decision. She resolves to reclaim her lost freedom or die trying.