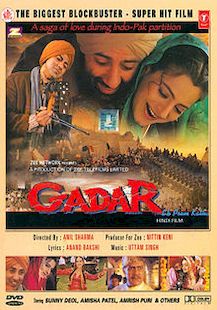 All Time Blockbuster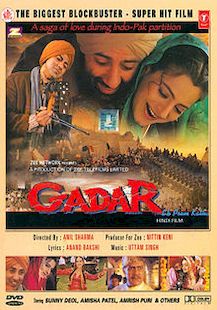 All Time Blockbuster
Total Nett Gross
:

76,88,00,000
| | | |
| --- | --- | --- |
| First Week: | | 9,28,00,000 |
| Budget: | | 19,00,00,000 |
| India Gross: | | 1,28,19,00,000 |
| Overseas Gross: | | $1,050,000 |
| Worldwide Gross: | | 1,33,12,50,000 |
Gadar - Ek Prem Katha is set in 1947 during the Partition of India, the film tells the story of a truck driver, Tara Singh (Sunny Deol), a Sikh, who falls in love with a Muslim girl, Sakina (Amisha Patel), belonging to an aristocratic family. During the Hindu-Muslim riots that erupted soon after the Partition, Tara saves Sakina from a murderous mob chasing her. Subsequently, Sakina starts living in Tara's house and the respect culminates into love.

Sakina and Tara get married and become parents of a baby boy. Their life seems like a bed of roses, till Sakina lays her hands on an old newspaper that has a photograph of her father (Amrish Puri), who she believes had been killed during the riots that took place during the partition. The father is now the Mayor of Lahore and when Sakina calls him from the Pakistani Consulate in Delhi, he arranges to fly her to Lahore.

But Tara and their son, who are supposed to accompany her to Lahore, are told at the last minute that their visa formalities have not been completed, which compels them to stay back on the Indian soil. Sakina reaches Lahore but is totally oblivious of her father's plans who wants her to get married to a Pakistani, take up politics as her career and forget all about India, her marriage and her son. After a long wait, an agitated Tara lands up in Lahore to get his wife back but faces the hatred of Sakina's father and relatives.

Will Tara and Sakina be able to fight hatred? Will love overcome new irreversible geographic boundaries and historical events of the sub continent?
The highest grossing film of all time beating Hum Aap Hain Kaun. The film set records at single screens, many of which will stand forever.