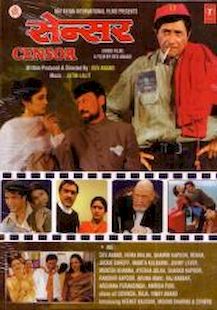 Disaster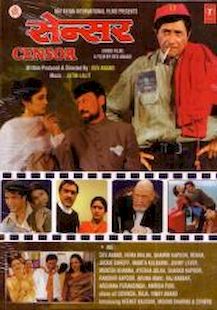 Disaster
Total Nett Gross
:

39,50,000
| | | |
| --- | --- | --- |
| First Week: | | 31,00,000 |
| Budget: | | 1,75,00,000 |
| India Gross: | | 67,00,000 |
| Overseas Gross: | | $9,000 |
| Worldwide Gross: | | 71,20,750 |
A film within a film, Censor has Dev Anand playing a veteran director Vikramjeet whose ultimate passion is making movies. So much is he involved in film making that he hardly gets time for his lovely wife, played by Hema Malini. He is convinced that his film Aanewala Kal, starring young stars Heenee Kaushik, Mohini Sharma, Raja and Vinay Anand, will appeal to everyone. But Censor Board's regional officer Ms. Srivastava (Rekha) and the other members find many scenes in the film objectionable.

On the other hand, Vikramjeet is sure that the objectionable scenes are intrinsic to the film's story. He refuses to make any changes in the film. It's then Vikramjeet meets Miss Maggie, an NRI. Miss Maggie is pretty impressed with Aanewala Kal. Maggie suggests Vikram to nominate the film for Millennium World Academy Awards. Vikramjeet smuggles a print of the film out of the country for Academy awards and the film wins accolades.

At home Vikramjeet refuses to accept "A" certificate for his film and takes the Censors to the court to fight his case. The film is shown to the jury and a selected few drawn from various walks of life. Court's passes its verdict is in favour of the filmmaker and orders the Censor board to make changes in its laws and criteria for judging and censoring films.