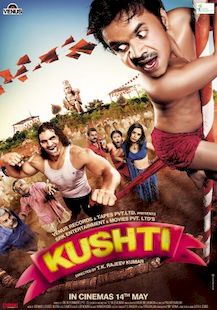 Disaster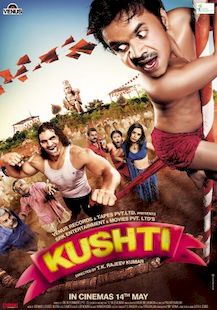 Disaster
Total Nett Gross
:

39,30,000
The film Kushti is the story of a small village in Northern India where wrestling is a popular sport and an important wrestling match is held every year. Ever year rivals Avtar Singh (Sharat Saxena) and Jiten Singh (Om Puri) try to beat each other in the wrestling match and gain the trusteeship of the village. Chander (Rajpal Yadav) plays the role of a village post-master.
Kushti is filled with misunderstandings and misconceptions, of hidden identities and secret love-affairs and the outcome is simply hilarious. The movie begins to take a turn when a certain someone delivers a secret package in the wrong hands. Especially someone, who is bound to take advantage and manipulate the real owner of the package.
Avtar Singh has a young and a beautiful daughter named Laadli (Nargis), with whom Chander is madly in love. To get her father's approval for their marriage he was to first prove his prowess by wrestling with the 7 and half feet tall "The Great Khali". The condition set by Avtar Singh is-Chander has to defeat "Khali" in the wrestling match!